Your Persuasive Speech 
- Can Be Easy !
YOUR speech can be a persuasive speech: inspiring, motivating and humorous. 
YOUR words can inspire
YOUR words can motivate
YOUR words can bring good feelings and fun.

YOU can be a persuasive speaker.

Believe me you can!
And it can be EASY!!

Persuasive Speeches can show you how by helping you ..
With that Special Occasion Speech

Find that topic for your speech if you do not have a specific purpose
Find the right words
Find new easy ways to prepare your speech
Discover new ways to grab your audiences' attention and hold it
Find out about the power of humor to move your audience
Find tested and proven techniques to deliver your persuasive speech.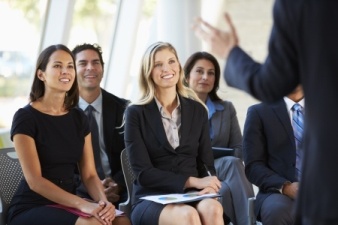 Special Speeches
There are also speech ideas for special occasions including Graduations, Valedictory occasions, special Birthdays, Retirement and Farewells, and Eulogies.
Also how to easily use humor in your speech and when it is appropriate.

Consider this true story
"The introduction from the Master of Ceremonies is clear and precise. From the middle of the room she stands ... pushes her chair carefully under the table and with confidence and energy she walks to the front of the room … and turns. With eyes gleaming, she stands there for a second. Straight with a touch of enthusiasm in her stance, her hand slowly rises and a few words are uttered ... and we are all involved ... Words flow as in a river … I am laughing at that quip ... I am having fun ... I am seeing her point.
Why is this so?
What did this speaker do that made all the difference?
Why are some speeches more persuasive than others?
Are some speakers simply able to use better words?
Do some speakers know secrets to giving a speech that the rest of us do not know?
As I personally strive to become a better speaker, I continually seek to find such answers.
The answers I discover are appearing here.

Tested and proven
Here is where you will find TESTED and PROVEN solutions and answers, not theory.
Here is where you will find POWERFUL and persuasive words, resources and tools for your speech.

How to use Persuasive Speeches NOW
Use the BUTTONS to go straight to what you need, OR

Use the SITEMAP/OUTLINE  to build your speech step-wise from beginning to end, from overcoming the initial fear and barriers to the celebration of the delivery of YOUR powerful speech.

Consider this ...
People " .. stumble over the truth from time to time,
but most pick themselves up and
hurry off as if nothing happened"
  ~ Sir Winston Churchill
Here are great truths about communication to stumble over …
as you pick yourself up, don't hurry away … 
think about the truths, try the truths and you will be amazed …

For as the truths are realised, learnt and applied,
so too will you become a great communicator … 
and the world today needs great communicators.
YOUR speech can be a persuasive speech, motivating and humorous. 
YOU can inspire people with your words. Believe me YOU CAN.
Here are the truths to make it possible, at High School, College, University, in the Town Hall or the Board Room.
Great communicating and best wishes,
Warren Holland
This article was printed from Persuasive-SpeechesNOW.com