Your Best Persuasive Speech
using e Books Humor
With e books humor, remove barriers, build bridges and communicate.
The most valuable resources I possess are the books in my small library. In and amongst my book collection are prized treasures on how to find good topics with humor (some are FREE) and how to use humour to remove barriers, build bridges and allow communication. Here stacked neatly are the references and books I repeatedly visit for my
training courses
persuasive speeches
and my humor ideas.
These treasures are a reliable guide in a busy world. Ever faithful and available. Stranded on a desert island, these are the words I would like to read and hear, EXCEPT if someone called out "…. Over there, they see our smoke, we're rescued." 

Humor in Persuasive Speeches
There are many books on jokes on the bookstore's shelves.
There are VERY FEW good books on humor and its use to ENHANCE communications. In fact, it is impossible to find a book.
It is well known that humor is an exceptionally powerful device for persuasive communications. Well applied humor breaks down barriers and builds bridges. Breaking down the barriers that prevent hearing a message. Building bridges that link the messages.
But it is not just about telling jokes. No it is far more than that. Well used humor is a powerful device of communications.
In the last five years, I have written one book of my experience of using humor and how I do it, and found two other books on humor and its use in communications, training and presentations. All three are my constant companions for my training, presentations and my speeches.
Here they are:
#1 Humor Your Speaking
#2 Laugh and Learn, and
#3 A Funny Thing Happened on the Way to the Boardroom: Using Humor in Business Speaking
BOOK #1  Humor Your Speaking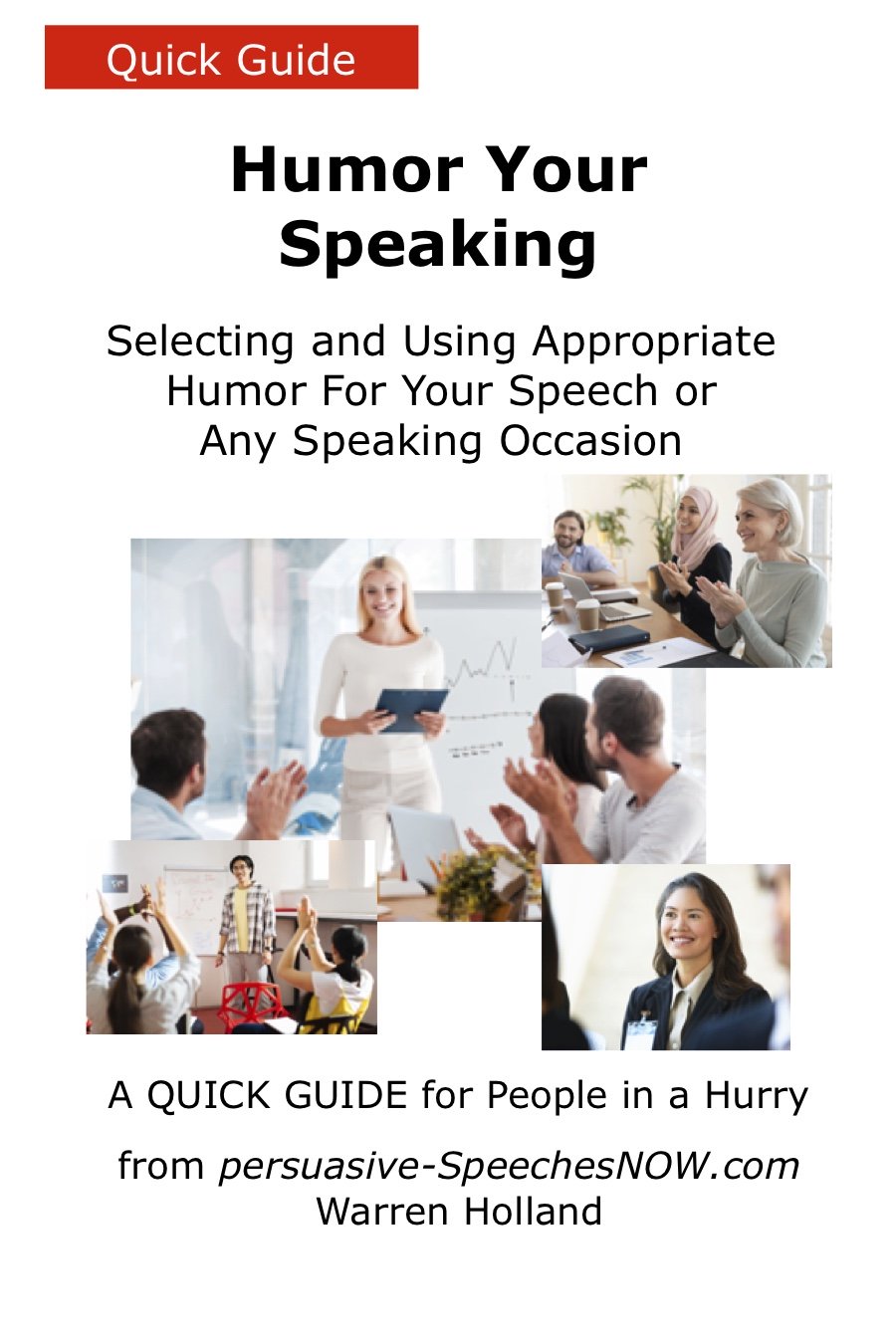 So frustrated was Warren to not find books and writings on how to use humour in his speaking, that he compiled copious notes.  He then turned it into a book, called Humor Your Speaking.
Warren is an experienced executive, who has presented to very diverse audiences both small and large, other executives, to Boards, Directors, Teams and the general public.
Warren gained his communication skills in Education, then leading Teams, Projects and working with Boards as a Director.  He has honed his skills as he won Humorous Speech Contests in Toastmasters and as President of his local club in Sydney Australia over many years.
Not being a comic or a comedian, in this eBook Warren explains how he has taken existing humor and spun it into his many presentations and communications to connect with his audience and to lead them to making decisions.
The secret?
Warren learnt a long time ago that laughter synchronises the brains of the speaker and listener so that they are emotionally attuned.
Want to be influential and persuasive, or just have a great time when you are presenting?  Then this is the book for you.
BOOK #2  Laugh and Learn
Laugh and Learn 95 Ways to Use Humor for More Effective Teaching and Training By Doni Tamblyn 2002 Training/Human Resources Hardcover • 224 pages ISBN: 0-8144-0745-5

Doni is a stand-up comic who used her day job teaching traffic offenders in a "school" to launch a training career. Grounded in Comedy, and he practical teaching of difficult students who "did not wish to be attending class", Doni is an expert in humor and its application to training and teaching. Doni says that whilst we may not all be born comedians, most people are naturally humorous. Doni 's humorous techniques bring serious results at clients such as Chevron, Wells Fargo, and other Fortune 500 companies, universities, and government entities. Her book Laugh and Learn offers plenty to keep smiles on the faces of trainers and their students, but it is NOT a collection of one-liners and knock-knock jokes. It IS though, an enlightening and practical look at how teachers and training professionals can inject elements of entertainment, creativity, humor, and emotion into their existing methods, even when dealing with serious or technical topics. Filled with fun, challenging, and thought-provoking exercises to help readers feel more comfortable being funny, the book also provides dozens of workshop activities and techniques to introduce humor into the learning environment.
Combining the latest brain studies and humor research with the author's own 23 years of experience in comedy and corporate training, Laugh and Learn is a fascinating look at what makes learners perk up, pay attention—and remember! And what is really good about Doni's book is that it has an INDEX – which is also very funny!!
About the Author
Doni Tamblyn (Philadelphia, PA) is president of HumorRules, a Philadelphia-based consulting firm. She is the author of The Big Book of Humorous Training Games, a frequent speaker at training conferences, and a former stand-up comic. BOOK # 2
A Funny Thing Happened on the Way to the Boardroom: Using Humor in Business Speaking
Michael Iapoce ISBN: 0-471-63649-5 Paperback 205 pages August 1988

BOOK #3  A Funny THing Happened On                      The Way To The Boardroom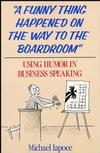 My goodness, Michael is experienced in business humor having written for the CEOs of AT&T, Xerox, Monsanto, and the Bank of America and written comedy for entertainers such as Rodney Dangerfield. He can show you how to use humor to be persuasive in presentations, meetings, seminars, in fact any business setiing. Requiring communication.
How does he do this in a book? Michael presents the basics of writing humorously in a clear, step-by-step fashion, revealing invaluable tricks of the trade for creating one's own custom-tailored jokes using techniques employed by professional comedy writers. Michael also includes short one-line jokes arranged by subject, as well as longer, story-type jokes arranged by the meaning or the point that the story illustrates.
Most important, THIS book also has an INDEX. Now that is the best.
This article was printed from Persuasive-SpeechesNOW.com