Select Appropriate Humor for Your Speech
And Really Spice Up Your Speech
SELECT Any Humor That Is Relevant And ADJUST It To Your Audience
A Quick Guide For
People In A Hurry

Crammed Full Of Ways That
Show You How - Fast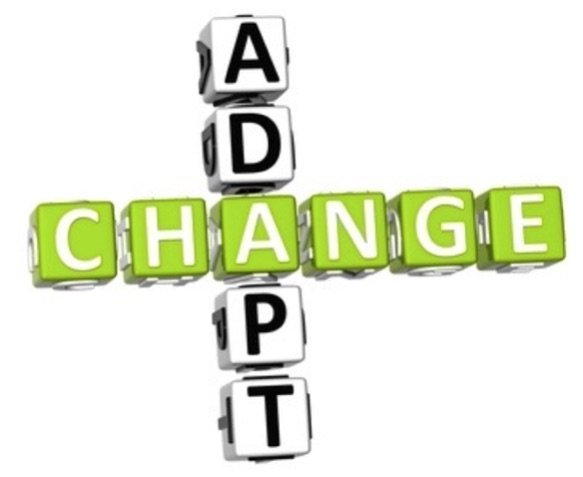 Now you can easily select appropriate humor in minutes, change, adapt and adjust the humor and create a speech that will be the envy of all who are there, easily, regardless of how good a speaker you are, regardless of who is in your audience, or where you are giving your speech.
Regardless of whether you are giving a speech, or you are responding to a speech, humor will help celebrate this memorable occasion.
This Quick Guide eBook can assist you.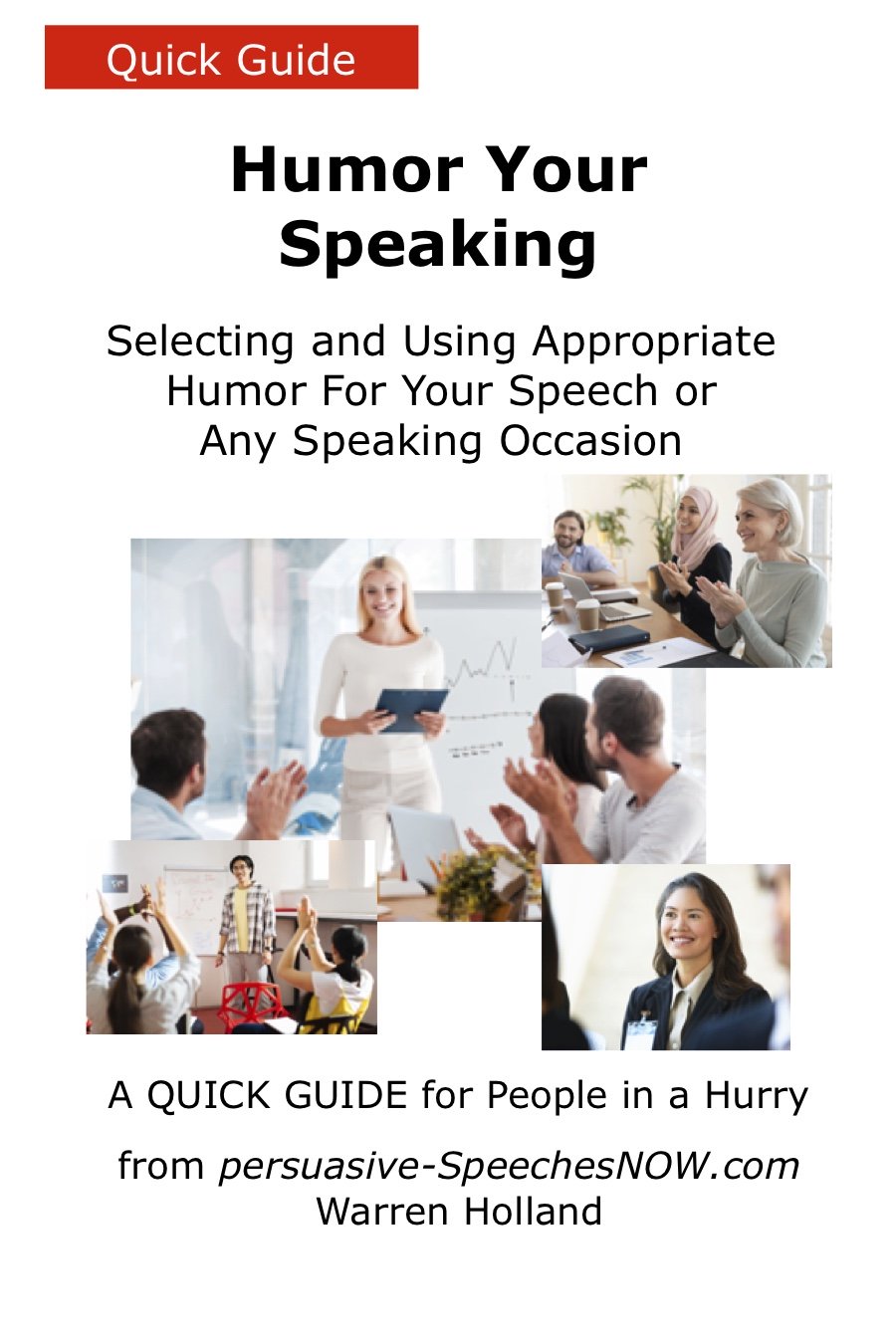 Be Humorous Whether You Are A Good Speaker Or Not
Whether you think you are a good speaker or not, humor will really help your speech.  In fact, regardless of how well you think you speak, humor will create a very memorable and successful celebration.
I have witnessed people who stumble over their words, but with a sprinkling of humor, they have an enormous impact on the entire celebration as the smiles and laughter create a connecting atmosphere and builds relationships between everyone present.
Humor can really make the difference!
This Quick Guide will show you how.
ANYONE Can Add A Little Humor To Make That Difference
You do not need to be a comedian.  You do not need to have a Degree, a Diploma, a Certificate or any fancy qualification to add a bit of humor to your speech.

You do not need to be a wit, or a comedian to add a bit of humor.
You do not even need fancy jokes.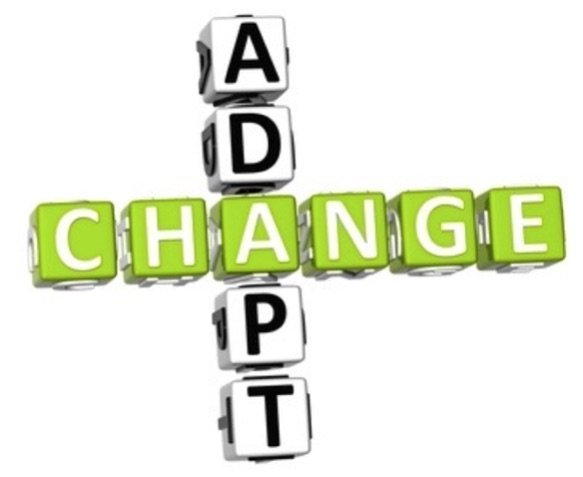 All you need is a source of jokes and humor, and a way to adapt them to this audience, maybe this person and this celebration.

This Quick Guide will do both.
Link you to a source of selected humor and show you how to adapt them.
Even If You Have Very Little Time ...

This is a Quick Guide, designed for busy people or when time is short.

Use this Guide to think about this celebration in a structured way, and to help you SELECT appropriate humor, and then ADAPT it to your audience.  A few words with appropriate humor can be put together using this Quick Guide very quickly.

Obviously, the more time you have the better, but I have used concepts in this Quick Guide to prepare for a Speech with minutes to go when the original speaker called in ill.
This Guide is born from actual lived experiences of giving humorous speeches for all sorts of occasions.
Whether Your Speech Is
Today Tomorrow or Next Week ...
Whether your speech is next month, next week, tomorrow or even today, this Quick Guide will quickly get you started in the right direction of adding humor to this important occasion and possibly creating the ambience for the entire celebration.
Even with Just Minutes ...
In fact I have used the ideas in this Quick Guide to add humor to a Speech when I was asked to say a few words with only minutes to go.  "Wow, yes OK I'll say a few words."  
Off I went thinking quickly about this audience and the person, selecting and adjusting some humor that if I don't mind saying,  was very well received. 
I don't wish this on you, but you will become quite adept at selecting and using appropriate humor.  Best of all is how your speech flows into the celebration, wow.
With more time you can use my resources in this Quick Guide to carefully browse and select appropriate humor.
It Doesn't Matter Who Your Audience Is Or Where It Is Located ....
Whether male or female, whether 10 years or 100 years old or more, humor breaks down barriers and connects you, regardless of age.




Whether it is a workplace, a family celebration, or even military deployed overseas, in fact for any audience, this Quick Guide will equip you.


Whether you are inside, outside, in the air or on the water, or on a mountain, this Quick Guide will help you.


It's just $9.97
Through this Quick Guide, you will gain the confidence that your words and humor will be appropriate.
It can be like this.
Just Imagine ...
| | |
| --- | --- |
| | You feel confident as you stand to speak.  The preparation has calmed you and you know what you are going to say.  As you speak there is a smile, then a giggle, and laughter.  As you look at the audience they are beaming and you feel a connection with this audience.  They are enjoying your words, your humor.  You are going to enjoy a bit of that food shortly when you are finished.  Today, this is the best part of my day. |
Is This You?
Would you like to feel like that?  It is entirely possible with this Quick Guide.  A few minutes thinking about your audience and learning how to select appropriate humor, and as a
BONUS in this edition,
        How to Adjust That Humor  for this very special occasion.
Just imagine, searching for and finding appropriate humor and then adjusting it to make it really fit this occasion and this audience.  Making it your own!

Imagine how that will be received.

This is an amazing opportunity to use humor to:

Connect with family if your speech is for a family gathering, or
Build your work team if this is at work, or to
Assist your command if you are in the military and even better maybe as a truly welcome break if you are serving overseas.
 Use anywhere this occasion is being celebrated.

Where ever you are, adding some humor will definitely enrich this special occasion.

Most of all, this can be a time to have fun in a more relaxed environment.
Or Is This You?

You feel trepidation? or maybe even fearful?

Do you feel uncertain how your words will be received?
Is there hesitance about this occasion and whether you can do it justice?
Do you feel hesitant about the audience?
But for the life of you, you just cannot picture yourself engaging an audience and in particular people laughing at your words.

And the last thing you want is for anyone to be disappointed after your speech.

Certainly, we don't want you to finish your speech and then be disappointed by your words, simply because you didn't take the time to explore options and see the easy ways to use humor.

This Quick Guide has Been Created for You

This Guide has been created for you and is born from years of experience.

Years ago, I was there.  I felt that trepidation, felt that hesitance, and the use of a little humor made all the difference and also helped me overcome my nerves and my ability to speak.
Born from what I have learnt and my experience since, this Quick Guide will help you too, to feel more confident about what you want from your speech. The descriptions and practical how-to examples and scenarios will actively assist you to implement every idea for your speech.  Your audience will really appreciate those few minutes of investment.
It is focused on HOW to FIND, SELECT and USE appropriate humor, and is jam packed with everything you need and much more.
Here Is A Summary Of The Ideas Covered In This Quick Guide

Not just ...


  How to FIND and SELECT appropriate humor

But also ...

  How to ADJUST and ADAPT your humor for your Audience and even for the Venue
And also ..
  Understand what exactly is humor
  Exactly WHY humor is good for your speech and
  HOW to use it
  Understand your audience and remove any fear of speaking to them
  How to engage your audience so they pay attention
  How to get your audience to participate, but only if you want to.

And ...
  Where is the BEST PLACE to locate your humor in your speech,
  How to BEST USE your humor and the
  Incredible SPARK that comes from being spontaneous.
 
Bonuses
BONUS 1
  How to quickly build a relationship with your audience and even strangers, so they are there for you.

BONUS 2
   All the humor resources (books) I use for my speeches plus
   My extensive collection of humor, jokes, short stories and one-lines that I actually use.

and much much more .....
from my many years of giving speeches at work and for family.
A Very Special Secret

PLUS there is a very special secret that will be invaluable EVERY time to speak from now on and especially on this occasion.

"If Only I Had Thought Of That!"

I often get comments from my readers who have just given a speech about how they wished their speech had been - more humorous, more relevant for those who had gathered, more engaging, better written .... and the list goes on.

A tiny bit of thinking before you give your speech will better place you to feel assured of your words and you will be WELL REWARDED.  You will be rewarded even if your speech is to be given today.

Don't go to all the expense and trouble of creating a speech and then when it's over say to yourself, "If only I had thought of THAT". 
While I don't guarantee my Quick Guide will help you think of every detail, I do promise it will help you to cover the bases by giving you the absolute best start to making your speech humorous.
This Guide Is Unique

In fact there is nothing else anywhere that can assist you with selecting and using appropriate humor in a speech that has been written straight from the author's experience like this Quick Guide.

Written From My Successes and Failures
Created from the experience of actually writing and delivering numerous speeches for many different workplace settings when I was a Team Leader, Manager and Director, and for family and friends over many years.  I have had weeks to get ready sometimes and on several occasions, just minutes, when the boss was detained or away.
I was asked because I was able to give a speech which honored the person or the occasion, and was spoken with humor.  People laughed and enjoyed my speeches, as they often commented to me afterwards.

These ideas work! 
           They certainly do!

These ideas are tested and proven with many different and varied audiences over many years.
| | |
| --- | --- |
| | "The special value is that this is not based on theory but on Warren's actual experience" ~ Neil |
Get "Aha" Ideas For Your Speech
You'll see everyday speech challenges solved in the case studies and examples: what is humor and how can I use it? where do I find it? how can it be made relevant? how can humor connect me with those who have gathered?  How can I add some pizzaz to my speech?  How can I leave them laughing?

Whether you are a great speaker or not, this Quick Guide will show you how to put that pizzaz into your Speech, and you and everyone will enjoy this important celebration. 

Your audience will envy your new skills, and ...

The many ideas in the Guide can be used again and again for the many different speaking occasions that may arise for you, not just this occasion.  It's an investment.
Buy the Easily Select and Use Appropriate Speaking Humor Quick Guide now

Just $9.97
Included Bonus 1

How to Build Relationships with Your Audience.
Here are shared my favourite ways to connect with your audience.  Invaluable to you on all sorts of occasions, because as you connect, you are more assured of getting your message across.

Included Bonus 2   - Humor for You

To save you time ...

A website where I am placing Humor
Just for you.  A growing resource of suitable humor that I use, so you don't have to search any where else.
This will save you hours!

Full list of all the humorous resources that I use.
This is invaluable.  Also my favourite places to find them.  You will be surprised how easy it is and how valuable it will become for you.
PLUS a very special secret
Which is hardly ever written about.  But knowing this will have a really big impact on your audiences in the future, whether large, small or one-to-one.






Buy the Easily Select and Use Appropriate Speech Humor Quick Guide now

Just $9.97
| | |
| --- | --- |
| | Immediately after your purchase, you can download your eBook (which includes the two bonuses) and dig into these ideas to quickly add appropriate humor to your speech. |
The Quick Guide and the bonuses are PDF files that you can download immediately to your computer, Tablet or Smart device. They are not a physical product. If your computer doesn't have the Adobe Reader software, you can easily install it for free.

| | |
| --- | --- |
| | If you need the free Adobe Reader install Adobe Reader here for Windows and Macintosh |
With No-Risk Guarantee

This Quick Guide comes with a 100% guarantee: If you are not satisfied with it, just contact us within 60 days of your date of purchase - and we'll issue you a 100% refund with no questions asked.
Your Quick Guide eBook purchase is 100% safe and secure - and 100% risk-free.

Life is short.  Use this Guide to save you time now. 

Let this Quick Guide show you how so you can enjoy this occasion.
If you get just ONE idea from my Quick Guide to create a speech everyone loves, you'll be repaid aplenty. 
BEST will be your new knowledge that can be used for many other occasions at work and on family occasions.
This Quick Guide will equip you for this occasion and any other occasion when you are asked to "say a few words".
Invest less than $10 to kick-start your future speeches.
Buy the Easily Select and Use Appropriate Speech Humor Quick Guide now

Just $9.97




Speech Humor Quick Guide, an eBook
Check it out, get inspired and add humor to your speech for a fun outcome.  Everyone will enjoy your words.


---
Home > Humour > Quick Guide To Selecting Humor
This article was printed from Persuasive-SpeechesNOW.com